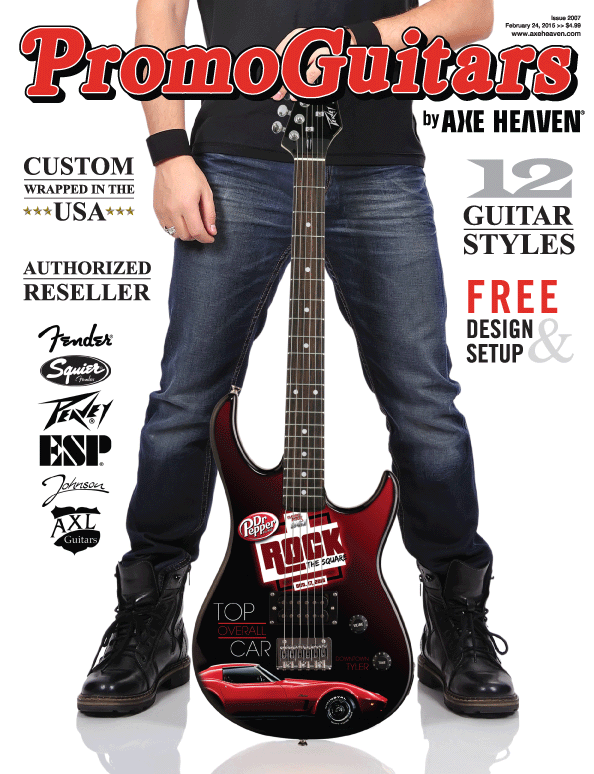 Promotional Guitar / Custom Electric or Acoustic Promo Guitar
Playable Full-Size Musical Instrument
A custom promotional guitar makes a great trophy, award, giveaway, or personalized gift that will your leave an awesome impression to last a lifetime. Create any design and include any message to meet your branding or personal needs. You can custom wrap any of the Electric and Acoustic Guitar styles shown below. We also offer a full-size Promo Banjo and a real Promo Ukulele.
PERFECT AWARD & IMPRESSIVE GIFT
For business, our wrapped custom promo guitars are perfect for sales incentive programs, trade shows, honoring top-level achievements, and any situation that requires a brand impression that can't be beat.
For personal gift-giving, a wrapped personalized real guitar will mark any occasion unlike any other present you ever given.
WE DESIGN OR YOU DESIGN
Send your vector logo / art file and details to us at sales@axeheaven.com (or download virtual templates below). Contact us for info about large volume orders and discounts (10+ units).
LEAD TIME: 14 – 21 business days. NOTE: No refunds for Custom Promo Guitar orders for any reason. We will deliver an exceptional product as we do for the most famous brands in the world!
FULL-SIZE ELECTRIC PROMO GUITARS
Fender™ Squier™ Strat™ Promo Guitar - $349
(Prod #: PE-101)
Download Templates

(1) strat.zip (2) strat_back.zip (3) strat_fretboard.zip (4) strat_head.zip (5) strat_virtual.zip
Fender™ Squier™ Tele™ Promo Guitar - $349
(Prod #: PE-102)
Download Template
tele.zip
Peavey® Rockmaster® Promo Guitar - $349
(Prod #: PE-103)
Download Template
rockmaster.zip
Jackson Dinky Promo Guitar - $349
(Prod #: PE-104)
Download Template
dinky.zip
ESP® EC-10 Promo Guitar - $349
(Prod #: PE-105)
Download Template
ec10.zip
Dean EVO Promo Guitar - $349
(Prod #: PE-106)
Download Template
evo.zip
Stagg Vintage T Promo Guitar - $349
(Prod #: PE-107)
Download Template
vintaget.zip
FULL-SIZE ACOUSTIC PROMO GUITARS
Concert Body Acoustic Promo Guitar - $349
(Prod #: PA-201)
Download Template
concertacoustic.zip
Full Size Acoustic Promo Guitar - $349
(Prod #: PA-202)
Download Templates

(1) jac.zip (2) jacpdf.zip (3) jacs.zip
Classical Acoustic Promo Guitar - $349
(Prod #: PA-203)
Download Template
cac.zip
Giannini Acoustic Electric Promo Guitar - $349
(Prod #: PA-204)
Download Template
gia.zip
---
Share this Product
---
More from this collection